TV SERVICE
1 TV Stream
155+ channels including Stingray music channels
watchTVeverywhere
TV Extras available for purchase
INTERNET SERVICE
Up to 100 Mbps download/10 Mbps upload speeds
6 – 10 devices at the same time • online gaming • downloading large files
• ultimate streaming • works great with cloud-based services

RESIDENTIAL PHONE SERVICE
Enhanced 911 • Caller ID Name/Number • Caller ID Call Waiting
Call Waiting •Call Forwarding • 3-Way Calling • Per Call Caller ID Block


TV SERVICE
3 HD TV Streams
DVR
210+ channels including 78 HD and Stingray music channels
watchTVeverywhere
TV Extras available for purchase
INTERNET SERVICE
Up to 100 Mbps download/10 Mbps upload speeds
6 – 10 devices connected at the same time • online gaming • downloading large files
• ultimate streaming • works great with cloud-based services

RESIDENTIAL PHONE SERVICE
Enhanced 911 • Caller ID Name/Number • Caller ID Call Waiting
Call Waiting •Call Forwarding • 3-Way Calling • Per Call Caller ID Block


TV SERVICE
3 HD TV Streams
DVR
250+ channels including 96 HD and Stingray music channels
1 premium channel of your choice (HBO, Cinemax, STARZ or Showtime)
NFL RedZone (entire season) included
watchTVeverywhere
TV Extras available for purchase

INTERNET SERVICE
Up to 100 Mbps download/10 Mbps upload speeds
6 – 10 devices connected at the same time • online gaming • downloading large files
• ultimate streaming • works great with cloud-based services
RESIDENTIAL PHONE SERVICE
Enhanced 911 • Caller ID Name/Number • Caller ID Call Waiting
Call Waiting •Call Forwarding • 3-Way Calling • Per Call Caller ID Block

All prices are monthly. Taxes and surcharges not included.
$100 installation and programming fee applies.
Early Termination Fee applies – $25 per unfulfilled month with a $100 minimum up to a $450 maximum.
Some speeds not available in all locations.
TV Extras
Additional TV Stream – $7.00/mo.
Additional DVR – $7.00/mo.
Additional Remotes – inquire within
HD Access – $10.00/mo.
HD Tier Channels – $6.00/mo.
Variety Tier – $14.95/mo.
PREMIUM CHANNEL GROUPS
• HBO® (includes HBO MAX) – $19.95/mo.
• STARZ/STARZEncore®
(includes the STARZ App)- $14.95/mo.
• Showtime®/TMC® – $17.95/mo.
• Cinemax® (includes MAX GO) – $14.95/mo
• RedZone (entire season) – $54.95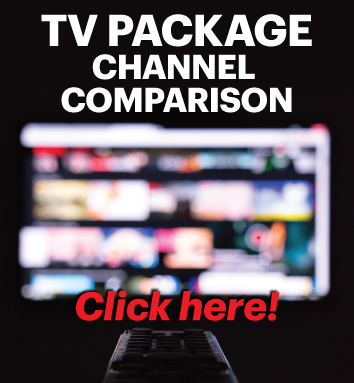 Get the speed you need and the
quality TV experience you deserve.
Click here to find the speed you need.

PHONE + TV + INTERNET SALES & PRICING
605-692-6211 • 800-561-6211